HAPPY HOLIDAYS! Our office will be closed for the holidays December 18th, 2017 till January 2nd, 2018
We will be OPEN this Saturday, December 16th, 2018 for appointments! Contact us ASAP if you would like to arrange a time to meet!
We will be checking emails and phone messages periodically while we are away.
** If you are in a
"rush"
, we will accommodate your order so that you can get it in early January once we return. Please call/email us with any questions regarding this.
2018 PRICE UPDATE! - Prices will be going up slightly in 2018
If you would like to take advantage of the current pricing for our invitations, please contact us for an appointment to start the process before the Holiday Break!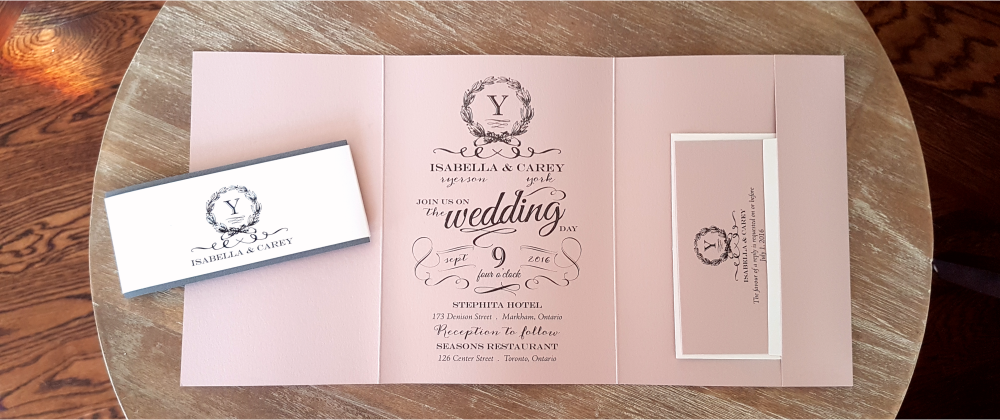 Wedding Invitations Toronto - Drop by and browse our showroom! We are open 10am to 6pm Monday to Friday
Stephita Wedding Invitations has been creating custom Wedding Invitations in Toronto & the GTA area for the past 15 years. We offer an assortment of Vintage Wedding Invitations, Classic Wedding Invitations, Brooch Wedding Invitations, Pocketfold Wedding Invitations, Laser Cut Wedding Invitations, Modern Wedding Invitations and much much more. Our goal is to provide the best quality, affordable wedding invitations to suit the style of every bride and groom. Please browse our current lines of unique wedding invitations.
---
We are conveniently located off a major highway just outside the city of Toronto. We have couples coming from all over the city like Downtown Toronto, North York, Mississauga, Etobicoke, Vaughan, Thornhill, Richmond Hill, Woodbridge and Markham. Please don't miss out on the best selection of wedding invitations in the city! Keep in mind if you live further out of the city, or even the country, we do offer a FREE SAMPLE program so that you can see the quality first hand.
---